Welcome to the Morris Family Home Page!
LIVE - from Kentucky??
It has been forever since I have updated this page. If you came here - I hope you can get caught up a little on the adventures of the traveling Morris family!
And back into school
So, both kids are going back to school. Can you believe that it is that time already? And in this part of Kentucky - it is really early. First week in August!
James is moving from Elementary school up to the intermediate and Joelle is moving on over to the Junior high. Which is why we wanted to get down here so quickly. Heather and I always said that once the kids were in Junior high - where ever that was - that was where we were staying. That way they can grow up with the same kids - through high school and everything. And here there is not even a high school per town - there is one per county!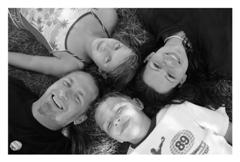 Bikes
Check out all of the bikes that Rich is into lately. You never know. With all of the research he has been doing, he could probably find you one of these rare bikes! Contact him.
Sign and View Guestbook
This is a great place to keep in contact with everyone.
Contact Us
If you have any questions, comments or suggestions, please send an e-mail to